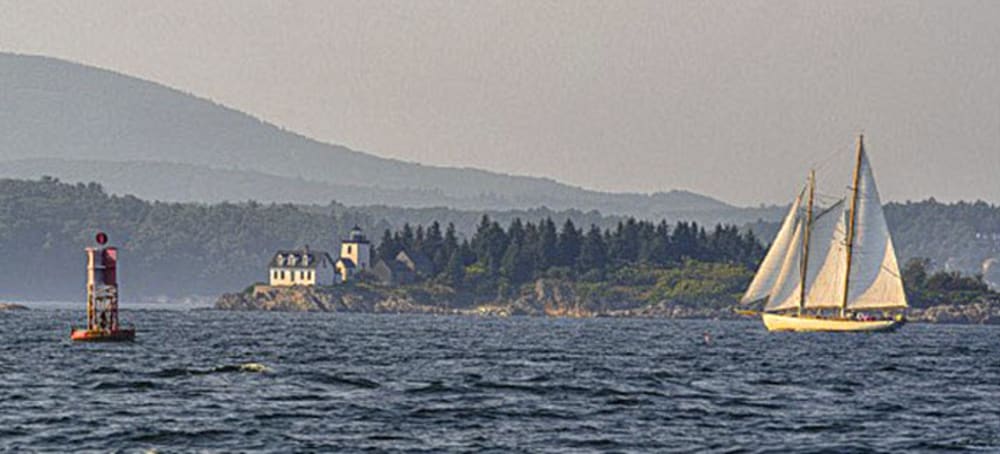 The Good Ol' Schooner
Sailing. That unique feeling of gliding through the water, the ocean water misting all around. It's something that many of us are drawn to, and so Mid-Coast Maine has made it an integral part of our community. For over 200 years, schooners would transport goods such as ice and lime from local mid-coast sources all over the world. While the schooner went out of fashion as a workboat in the early 20th century, they're perfect for day cruises as they look and sail like something right out of a movie. Most schooner captains start day cruises in Maine as early as mid-May and go all the way into late October, then venture down to a warmer climate to work there. They typically offer a few different time slots for day cruises, a sunset sail, and then specific event sails such as a 4th of July sail. Today I'm going to focus on four of Penobscot Bay's favorite leisure schooners. If you want to take a break from pavement and brick buildings, use this helpful guide to decide which boat is right for you, then wander on down to the harbor to let the adventure begin!
Originally built in 1927, this nearly 50-foot long schooner was first launched from Crosby Yacht Building & Storage Co. in Massachusetts, captained by Alexander Smith, for recreation-only sails. Alexander named her the "Whistle Binkie", which I guess wasn't that catchy, so when she was purchased by the Manson family in the 1940s, they gave her the name we all know and love, the Schooner Olad. Between the 1940s and the 1980s, she was used for a few odd jobs from all the way in the Caribbean to her birthplace of Massachusetts. Then, in 1985, John Nugent purchased her and brought her back up to Maine to join the Camden day-sail fleet for the remainder of her life. Since then she's been fully restored and has brought joy to everyone who sets foot on her deck, successfully exploring the Penobscot Bay through a variety of day-sail options. She has lots of memories and would love to take you aboard for your first (of hopefully many) Maine sailing experience.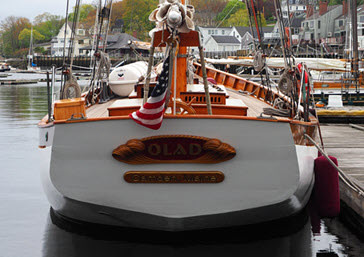 Did you know that the town of Rockport was won in a card game all the way back in 1769? Or that Maine's most famous Schooner, the Frederick Billings, weighed over 2600 tons and was built in less than a year? All these amazing historical facts and more are provided by the amazing captain Bonnie Schmidt aboard the Schooner Heron. Relatively young, this schooner was built back in 2003 and has since sailed over 100,000 sea miles between Rockport in the summer and the Caribbean during the winter. She offers three different day sails which are all extremely enjoyable and factual, leaving you more relaxed, and more knowledgeable on the Penobscot Bay region, than ever.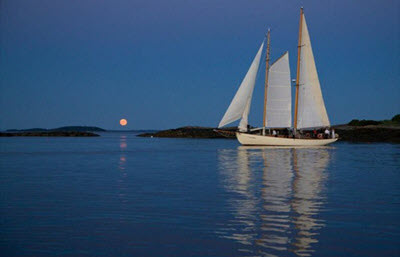 The Schooner Appledore II was built in 1978 and was the last boat custom built by the Gamage Shipyard. This beautiful New England style ship was launched from Portsmouth, New Hampshire, going around the world for a long 18 months before returning home. It was even featured in not one, but two books by Herbert Smith, Dreams of Natural Places and A New England Schooner Odyssey and Sailing Three Oceans. For the past 25 years, the Schooner Appledore II has been sailing between Camden and the Caribbean, providing enchanting trips you'll never forget. My first boat trip was on the Appledore II when I was just 8 but I will always remember that amazing feeling of first thinking you might get a little seasick, and then the ocean and the sun beaming down takes over and you feel so free. It's an amazing memory to hold and any one of these fine boats will provide a once in a lifetime opportunity for a memory you'll never forget.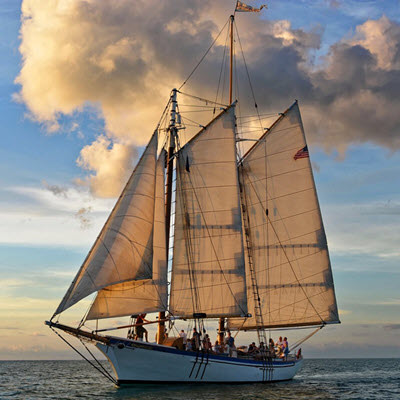 Originally used as a for racing and cruises by Captain Kattenhorn, this 57-foot schooner started it's life in 1918. It was used for many purposes until it was purchased by the Benedicts and who restored her to use as a passenger's vessel. She was purchased in 1987 by Captain Jack and Barbara Moore, and in 1991 earned its place in the National Register of Historic Places. Just passing her 100 year anniversary last year, this magnificent boat is now owned by a family sworn to the sea, Nicole and Ramiro De Acevedo Ramos. After waiting 8 years to finally own the Surprise, they now adore using her for passenger cruises around Penobscot Bay while also giving their daughter the life at sea they'd always wished for. The Schooner Surprise makes you feel right at home while also giving that unique freedom that only the sea can provide.